José Miguel Calderón Carpio
CIO LATAM

,

Janssen Pharmaceuticals | Johnson & Johnson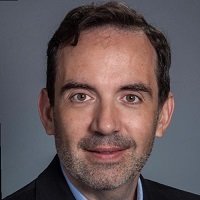 Jose Miguel  (LATAM JnJ Pharmaceuticals CIO) holds overall responsibility for developing IT capabilities to enable business strategies and initiatives towards Johnson Pharmaceutical group of companies for Latin America and the Caribbean. He is a member of Janssen Latin America Board and Janssen Pharmaceutics Global IT board.
Before joining JNJ in 2014, he served as Director of Microsoft's Latin America Government & Health Industry organization, leading business strategy & planning to help government, public safety, national security, and healthcare customers. In this role, Calderon promoted Microsoft's work in providing innovate solutions and programs to help public sector organizations to bring public services to their citizens and business while improving efficiency with the support of thousands of business partners in the region.
With 25 years of international experience, he joined Microsoft Corporation in 1996 as a worldwide expert on Data management and Analytics in Spain; he moved quickly to drive the conversation with the Government& Health Technology officers from different leadership positions helping with the National IT Agenda by delivering transformational projects and becoming a well-known subject matter expert, media contributor, and public speaker.
Software Engineer by training and an active participant in helping digital technology to become a positive contributor for the improvement of quality of  people's life, he has been recognized with the National Award Healthcare and Technology by the Spanish Society Healthcare and Technology (S.E.I.S.) due to his impact in National Healthcare automation and efficiency and by Microsoft Corporation with the World Wide Public Sector Diamond Award (Real Impact) by his effort on National competitiveness on counties with limited resources.
Sesiones de los Eventos Pasados