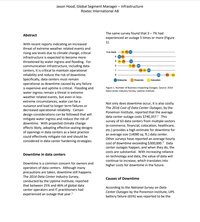 With recent reports indicating an increased threat of extreme weather related events and rising sea levels due to climate change, critical infrastructure is expected to become more threatened by water ingress and flooding. For communication infrastructure, including data centers, it is critical to maintain operational reliability and reduce the risk of downtime. Specifically, data centers must remain operational as downtime caused by any failure is expensive and uptime is critical.
Flooding and water ingress remain a threat in extreme weather related events, but even in less extreme circumstances, water can be a nuisance and lead to longer term failures or decreased operational reliability. Certain design considerations can be followed that will mitigate water ingress and reduce the risk of downtime.
With projected climate change effects likely, adopting effective sealing designs of openings in data centers as a best practice could effectively mitigate risk and should be considered in data center hardening strategies.