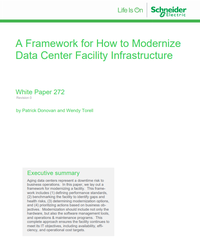 Aging data centers represent a downtime risk to business operations. In this paper, we lay out a framework for modernizing a facility.
This framework includes
Defining performance standards
Benchmarking the facility to identify gaps and health risks
Determining modernization options
Prioritizing actions based on business objectives.
Modernization should include not only the hardware, but also the software management tools, and operations & maintenance programs. This complete approach ensures the facility continues to meet its IT objectives, including availability, efficiency, and operational cost targets.