Violin Memory, one of the true pioneers of all-flash storage, has filed for Chapter 11 bankruptcy protection due to flagging sales and poor stock market performance.
The company is seeking to hold an auction in early January, hoping to sell its business to an organization "committed to supporting its core customer base".
"We are taking this action, which should conclude by the end of January 2017, to bolster Violin's ability to serve the needs of its customers. Violin intends to continue to sell solutions to customers and prospects as well as service and support customers during this restructuring," Kevin DeNuccio, Violin's President and CEO, said in a statement.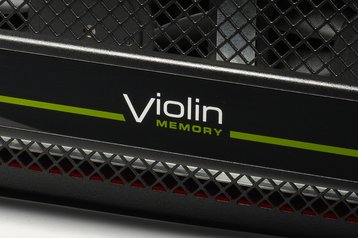 Stick to the tambourine
Violin was established in 2005 as one of the first companies to see the potential of flash memory in the data center, and not just consumer devices. Over the past 11 years it has launched a number of successful products, but the company struggled to establish itself as a market leader, and found strong competition in the face of marketing-heavy start-ups like Nimble Storage and Pure Storage.
The company filed for Chapter 11 protection in the Bankruptcy Court for the District of Delaware. Violin says it has plenty of valuable assets to interest potential buyers, including 58 US patents, with another 24 pending, and 64 foreign patents, with another 38 pending.
The company offers a wide range of all-flash arrays that continue to be used by some of the world's largest companies, bringing about $20 million in recurring revenue.