Vantage Data Centers is breaking ground on its fifth data center in Santa Clara, California, which will bring the total amount of power available on campus to 60MW by summer 2017.
The facility codenamed 'V6' will replace a 40-year old office building to offer 9MW of power capacity. The groundbreaking ceremony on Friday will be attended by the mayor of Santa Clara, Lisa Gillmor.
The company is still working on the data center codenamed 'V4' and developing another codenamed 'V5' (they don't appear to be arranged in numerical order), as well as building a second campus in the city, on Mathew Street.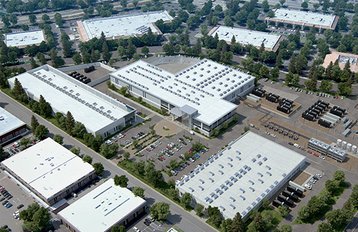 Evergrowing
Vantage was established in 2010 to run the largest wholesale data center campus in Silicon Valley, located on a site previously owned by Intel. The company has been steadily growing its footprint, and promptly moved to start construction after receiving a planning permission for another extension last week.
V6 will offer 32,000 square feet of data center space, spread across two stories.
"This event represents Vantage's strong commitment to enabling innovation and growth in Silicon Valley," said Sureel Choksi, president and CEO at Vantage Data Centers. "We greatly appreciate the city of Santa Clara's support of data center development, which fuels continued innovation in Silicon Valley for the benefit of consumers and businesses and around the world."
Vantage is currently working on V4, a 6MW data center on the same campus that was announced in January 2016 and is scheduled to open its doors before the end of the year. It is also developing V5, a 12MW facility that will open in early 2018.
To enable this expansion, Vantage is upgrading the site's power capacity by adding a third 50MW transformer to the existing substation.
At the same time the company is already planning a new 54MW campus on Matthew Street, comprising four data centers, and expanding existing campus in Quincy, Washington.
Earlier this month, anonymous sources told Reuters that the owner of Vantage, Silver Lake Partners, was looking to sell the company, hoping to net at least $1 billion from the potential deal.