As Singapore continues to pursue its aim to grow as a smart nation, boasting extensive networks and reliable connectivity, it stands out as a powerful data center hub for the entire APAC region and continues to attract the best innovators and technology ground breakers of this era. This makes it the most suitable place to convene the entire data center and cloud community to discuss the latest achievements in the digital space – the SE Asia Datacenter Week, Sep 15-21 2017.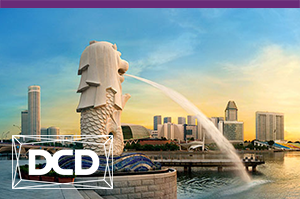 The most important networking week in the digital infrastructure calendar
For one week a year the whole South East Asian data center market comes together with 80 international speakers, 70 exhibitors and 1,500 delegates to debate the state of the industry, to network, make new connections and to find new ideas. Held in the week preceding the Singapore F1 Grand Prix, the event contains many new activities this year - a major conference and expo DCD>Zettastructure, multiple partner networking events, awards, training, data center tours, Data Center Career Fest, DCD Cybersecurity Summit, DCD>CXO Leaders Summit and more.
At the official SE Asia DC Week pre-event launch held during the recent conference, DCD>Malaysia, Sonu Nayyar, VP of Global Engineering and Operations, LinkedIn was announced as the keynote speaker through a teaser video. Sonu, together with 80 local and international speakers from Facebook, Microsoft, Singapore Post and more will be taking attendees through a comprehensive and insightful agenda on best practices and the latest innovations available to support IT infrastructure needs in this "Zettabyte era" of high data consumption and technology disruptions including Cloud, Cybersecurity and edge computing and more.
Singtel will be lead partner
DCD is proud to welcome Singtel as the principal industry partner of the SE Asia Datacenter Week 2017, representing the latest innovations and technology in the region. Throughout the week, Singtel will be by share innovations through a data center tour and activities for attendees of DCD>Zettastructure.
"We are excited to partner with DCD for SE Asia Datacenter Week 2017", said Mr Goh Boon Huat, vice president of business product at Singtel. "With the increase in global data traffic, businesses need a platform like this to learn about the latest industry innovations and trends to help them stay ahead. SE Asia Datacenter Week will be a great opportunity for us to introduce our latest data centre - DC West, joining our network of 12 world-class data centres in Asia Pacific."
More information on these activities can be found in the registration survey.