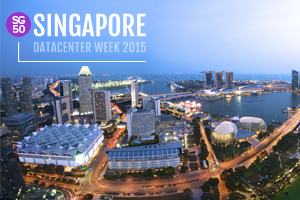 SE Asia's data center votes with its feet as year-on-year attendance at week-long series of events doubles
Started in 2014 in order to celebrate one of the world's most connected data center hubs, Singapore Data Center Week has rapidly grown into the annual focal point for the region's entire data center industry supported by a host of government and industry groups. With a combination of instructor-led training courses, data center tours, social events and a major conference & expo this has been an unrivalled knowledge and networking opportunity for senior IT professionals.
"The gamble to schedule SDCW in the week before the Singapore Formula 1 Grand Prix has really paid off", said Vincent Liew, GM Asia Pacific, DatacenterDynamics – the organisers of the week. "Initial feedback has been extremely positive for all the events which in total engaged more than 2,400 senior IT and data center professionals."
Singapore Data Center Week saw participants fly in from neighboring countries including Malaysia, Indonesia and Vietnam as well as delegations from South Korea, Japan and China – accounting for over 20% of the visitors.
DCD Converged SE Asia
The central event held over two days (13/18th September) saw 1,500 of the regions most senior data center professionals converge on the Marina Bay Sands convention center to participate in a 5 track conference programme. With numerous VIP roundtables, panel discussions, workshops and keynote presentations delivered by subject experts from around the world.
Discussion highlighted the need for the traditional IT/Facility/Software silos to be broken down to pave the way for a more holistic approach to all aspects of data center and cloud infrastructure delivery. "Our industry needs to re-think how it can accommodate the data tsunami that will be created by 29 billion connected devices," said Cole Crawford, CEO, Vapor IO and keynote speaker. "This event really got the community focused on that challenge and the new StackingIT track was a hit."
Asia Pacific Data Center Awards
The gala dinner and awards ceremony for the 2nd DatacenterDynamics Awards programme was held on the evening of 16th September at Marina Bay Sands, and saw 300 of the industry's finest celebrate the region's best projects, teams and outstanding individuals.
With entrants from 12 nations totalling more than 88 individual entries, the largest turnout so far for the Awards, winners included Equinix, Digital Realty, NEC, Telstra, Nanyang Technological University, Ka Vin Wong from 1-Net, Tomoo Misaki from Nomura and a hat-trick of awards for Huawei.
"This year's winners are a testament to the ingenuity of the data center sector in Asia Pacific," said Keith Murray, VP IT Business, Schneider Electric, who were the headline sponsors of this year's Awards.
Continued growth expected for region
A report launched today by DCD Intelligence off the back of the event predicts that the Singapore data center market will grow at a 8.3% (CAGR) through to 2020 with a major focus on colocation and cloud services as the primary regional hub.
Click here for further information on the Metropolitan Hub Series: Singapore report
Next year Singapore Data Center Week has again been scheduled prior to the Singapore F1 Grand Prix, from the 16th to 20th September, 2016. If you are interested in getting involved please contact: Stephanie.Chiang@datacenterdynamics.com