The pre-event launch, sponsored by Huawei, showcased major highlights that will take place at this year's Singapore Datacenter Week 2016, which is scheduled for the 13-16 September. The Week will end with the spectacle of the Singapore F1 Night Time Grand Prix and will be held in the iconic Marina Bay Sands Convention Center. 
Already supported by major trade and professional bodies including the IDA, WDA, ISACA, CSA, SiTF, the week will include the 10th annual DCD Converged SE Asia Conference & Expo, DCD APAC Awards finalist announcement, Open Compute Project Asia Pacific Information Day, data center tours, a full training calendar and multiple VIP networking events, The activities will attract in excess of 2,000 visitors, amongst them the most important IT decision makers from across Asia Pacific.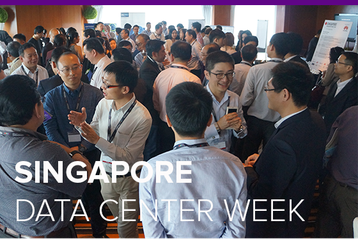 "This evening we have discussed exciting innovations and activities in the region, including the progress of smart cities, how to build competitive advantage through ICT services, what machine learning will bring and more. Such insights enable us to better prepare our international speakers to help drive innovation and better facilitate business during Singapore Datacenter Week," said Vincent Liew, General Manager South Asia, DatacenterDynamics. 
Taking Cloud and Data Center Solutions to the Next Level
"The cloud and data center market here in Singapore is robust! We look forward to building further connections with, and deeper understanding of the industry through DatacenterDynamics. This will allow us to present solutions which challenge the players in moving to the next level. With years of expertise in data center products and integrated solutions and the passion towards driving the industry's development, Huawei will actively share in the areas of Green facility, ITOE, and data center migration and consolidation, " said Zhou Xiao Ping, Chief Service Officer, Huawei.
As one of the key sponsors of DCD Converged SE Asia 2016, alongside with NTT Communications, Telin Singapore and Schneider Electric, Huawei will be importing its innovative solutions resulting from its substantial investment in its research facility in China.
Delegates can also look forward to getting a close look at the latest innovations adopted by Singapore's state-of-the-art data centers. Telin and NTT Communications have already joined this year's data center tours program, promising delegates an engaging and instructive experience.
To find out more information visit: http://www.datacenterweek.com
If you will like to participate as a Thought Leader, Sponsor or Delegate please send your interest to stephanie.chiang@datacenterdynamics.com