The digital enterprise transformation now sweeping across the global economy all ends up in, is enabled by, and depends upon, robust telecommunication networks, data centers and cloud infrastructures. DCD Enterprise Conference & Expo at the Marriott Marquis, New York April 19-20 will see 2,500 business and technology leaders gather to map the trends and challenges of the exponential market growth forecasted for the end of this decade.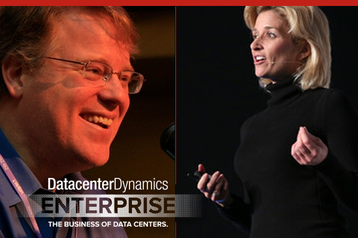 "Let's stand outside of what today we think of as the so-called network edge and look at what some of the innovators are now doing with digital technology that was never even possible before now," says Bruce Taylor, EVP North America, DatacenterDynamics. "What changes in a world where 25 billion connected digital devices are creating and shredding through 50 zettabytes of data via an untold number of applications? That's what we will be debating." The first two keynote speakers confirmed for conference point to this outside-in examination.
Digital Futurist Robert Scoble
Scoble, a long-time Silicon Valley digerati now travels the globe as Rackspace's futurist. "I was in China last week," says Scoble. "And on one leg of my travels, my airline seatmate was a guy surveying wheat crops across the country. Did you know that by the end of this decade, large-scale agriculture will likely have 30 sensors per acre feeding constant data on everything from soil composition to fertilization and water consumption, and crop health and projected yields, and market forecasting? Everywhere I look I see new things that challenge the very way we think and understand our world. Nobody can afford to stand on the sidelines for this."
Former Open Compute Project executive, now CEO of Vapor.io, Cole Crawford says of Scoble, "You could not pick a better person to give a sense of what the near, three- to five-year, future holds. He is a master of piecing together disparate data points and providing visionary thought leadership."
IBM Watson Ecosystem VP Lauri Saft
While we all understand the driving trend for big data and analytics for business intelligence purposes, how about for consumer empowerment? Less than a week ago, IBM announced the release of a new app, called Watson Trends, intended to outfit consumers with analytics access to what's hot for gift giving in three product categories: tech, toys and health. (Spoiler alert: for toys, it's Lego, specifically the Star Wars package).
Many think of IBM's Watson as the supercomputer that trashed humans at playing Jeopardy. While true, what IBM Watson and its collaborative eco-system of applications developers is bringing to market is cloud-based, natural-language, cognitive computing to take on a broad variety of applications, up to acting as a board-level, C-suite executive advisor.
From Memorial Sloan Kettering cancer research to retail, the Watson Ecosystem is like an open-source-style DevOps lab intended to bring the power of cloud-based cognitive computing within reach of anyone with a business need. "We're like an incubator," says Saft, who will share her insights into the future of cognitive computing, and share real-world examples of how Watson is being deployed now across a broad range of "digital enterprise" applications.
Software-Defined, Data-Driven
"The overarching objective this year is to plot where we are on roadmap to the true software-defined, data-driven and autonomous data center," says George Rockett, co-founder and CEO, DatacenterDynamics. "How are data center designers and builders adapting their practices in response to technological advances at every level of hardware and software? How are infrastructure and operations managers both rapidly improving the effective of their current operations, while moving workloads to colocation and hybrid cloud environments? How are they assessing and mitigating business and operational risk and meeting the everyday challenges to both data and infrastructure security?"
DCD Enterprise looks at the full-stack of the data center and cloud infrastructure, from digital infrastructure 'North of the rack, to critical physical infrastructure 'South of the rack' and the holistic ecosystem. Over the course of two full days, delegates will participate, collaborate and network with peers to address these and many more questions, explore both technologies and best practices on the delivery of IT services in this "hyper-connected, digital enterprise world."
DCD is moving to a 'free-to-attend, by invitation' event model for qualified end-user business executives, managers and technical professionals directly engaged with IT, data center and cloud infrastructure. If your company operates its own on/off premise data center(s), or if you are a significant end-user of data center and cloud services and you are involved in technology planning, procurement, implementation, and operations, then you may qualify Click here to apply
Get involved:
For more information on the conference program, contact Giovanni.zappulo@datacenterdynamics.com or join our eco-system of 100+ technology and service vendors contact matteo.coppola@datacenterdynamics.com