Hewlett Packard Enterprise reportedly plans to let 5,000 of its employees go - with cuts affecting those in the US and abroad, and including managers.
Bloomberg reports that people familiar with the matter expect the staff reduction to begin before the end of the year.
HPE Next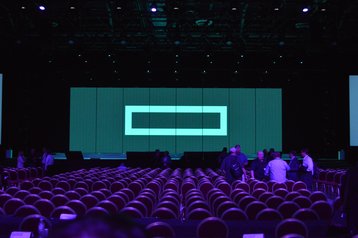 The move comes as HPE struggles in the face of strong competition across key areas of its business. Under CEO Meg Whitman, the company has tried to narrow its focus on a few key business areas - spinning off its personal computer, printer and business services divisions, as well as several software units.
Whitman recently told analysts: "With fewer lines of business and clear strategic priorities, we have the opportunity to create an internal structure and operating model that is simpler, nimbler and faster."
The cuts are likely part of 'HPE Next,' Whitman's vision for the future of the beleaguered company. In a memo to staff this June, seen by The Register, Whitman said: "The goal of HPE Next is to produce an organization that is precisely built to compete and win in the marketplace. Through HPE Next we will clean-sheet our operating model and organizational structure to simplify and improve how we work.
"We're going to review all of the processes of the company, as well as the accountabilities, to see where we can be more agile. We will look at how we can prioritize investments in growth areas and capabilities that set us up for the future.
"And finally, we're going to right-size end-to-end cost structures of HPE to ensure we deliver on our financial architecture."
The Next overhaul "is a project on par in scope with any of the recent separations we've managed and is likely to determine HPE's relevance in the years ahead," Whitman added.