With the proliferation of IoT, sophisticated threats are evolving along with the greater interconnectedness as seen with the rapid convergence of IT and OT (Operational Technology). Taking place at the iconic Old Billingsgate Market on 1-2 November in London, DCD Europe's Zettastructure is set to highlight the profound impact this powerful union has on the security of mission-critical infrastructure. 
"Traditionally IT and OT have been kept in separate silos. Whilst IoT is driving the convergence of IT and OT for greater automation, agility and efficiency, the increasing pervasiveness of connectivity has expanded the attack surface of OT networks by opening them up to threats, dangers which are well known by the IT folks", says Massimiliano Falcinelli, Head of Security Infrastructure at the International Atomic Energy Agency who will be speaking at the event. "ICS and SCADA infrastructures are increasingly becoming vulnerable to attack, which can have disastrous consequences for mission-critical infrastructures", adds Falcinelli.
Recent stats, including Dell's 2015 Annual Security report, supports this notion by stating that worldwide cyber-attacks on ICS and SCADA infrastructures have doubled in a year. In December last year the Ukrainian national power grid was successfully taken down, which demonstrates the level of sophistication of these attacks.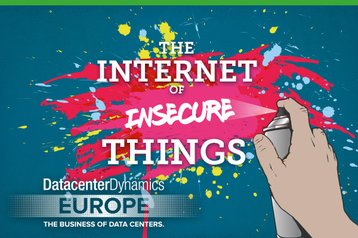 Huge security gap in the data center industry
In our data-centric society, data centers are the digital fuel that powers our digital world. As the data center is being virtualised, software-defined and cloudified, this not only leaves businesses, but governments and individuals at severe risk, in the event of power and cooling, the very lifeline of the data center, being taken down.
"Implementing a consistent security strategy across both IT and OT is essential for the future", says Barak Perelman, CEO and Co-Founder at the Industrial cyber security company Indegy which provides a specialized SCADA and ICS security platform, to close security gaps that can't be addressed by SIEM and IT solutions. Perelman is set to join the event in November alongside other IT leaders from Nissan, Google, Deloitte, Bank of America, and Lockheed Martin, to discuss the major challenges faced by the industry.
"The IT/OT landscape is changing the entire ecosystem, from job functions to solution providers. Whilst the opportunities from this converging landscape are vast, we are faced with a huge security challenge, one that has leaked into the physical world. The borderlands between the physical hardware and software-defined lies in the heart of DCD Europe this year, where we curate a platform for executives from both worlds to meet and collectively tackle this massive challenge ahead of us", says George Rockett, CEO and Co-Founder, DatacenterDynamics.
DCD's new delegate registration model means qualified, end-user delegates will participate with no registration fee. – see details.