The notion of placing critical systems underwater isn't exactly new. The U.S. Navy has tons of experience doing so. One could argue that the idea of putting a high-density, high-performance, network-edge cloud computing data center in an undersea pod ought not to be a terribly difficult design engineering task. And likely one would be wrong.
Ben Cutler, the project manager who leads the team behind Microsoft's Project Natick underwater R&D exercise is part of a group within Microsoft Research called NExT, which focuses on special projects. "We take a big whack at big problems," says Cutler. He will present Microsoft's "lessons learned" on this project at DCD Enterprise , April 19-20, at the Marriott Marquis, Times Square, New York.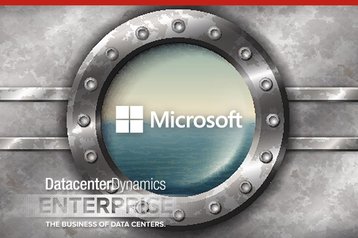 "We want to look from a new angle, a different perspective, with a willingness to challenge conventional wisdom," according to Norm Whittaker, head of MS's NExT special projects group. "So when a paper (from a Microsoft engineer who had served in the Navy's nuclear program) about putting data centers in the water caught our eye, we started exploring this undersea space."
A network-edge solution?
"We're aware of a number of developments that put electronics in marine environments, such as the floating barge conversion developed by Nautilus Data Technologies," says Bruce Taylor, DCD's executive vice president and conference chair.
"This will likely be a global opportunity for placing network edge, cloud-intended high density facilities in urban markets that happen to be port cities," he says. "Cost and availability of real estate; power and fiber network connection availability; high-density cooling and power innovation all may find a future solution in a marine-based siting."
Further insight will be gleaned on the network edge on a panel discussion at DCD Enterprise where Robert Bunger, Data Center Science & Solutions at Schneider Electric leads the session covering the challenges and best practices of deploying and managing "edge computing" to support compute close to users to store large amounts of data, provide redundancy and increased security, or reduce latency.
"These sessions, as with the IBM Watson and futurist Robert Scoble keynotes, are good examples of DCD conferences focusing on what we call 'borderlands' topics," says DCD Co-Founder and CEO, George Rockett, "Anyone who thinks about today's data centers that handle four zettabytes of network traffic globally, need to be aware of developments that hold the promise of being competent to handle the 50 zettabytes forecasted for the end of this decade."
Conference passes are running out fast – to book your place and learn about the latest in network-edge thinking please visit http://www.dcdconverged.com/conferences/new-york-2016#tickets now!