The "Internet of Things" (IoT) is a techno-trend that has been the focus of digital innovators over the past few years. However, the implications of IoT for data center capacity management and operational efficiency across the IT stack has yet to be fully projected. How can IT professionals equip themselves to ensure the right technology is deployed to manage the data flood and the other impacts of IoT?
DCD>Zettastructure will be providing insight into how to navigate the coming era of IoT and to deploy the right "digital infrastructure mix" through a number of panels and speaking sessions including an expert panel to discuss "How will the IoT revolution impact the data center industry?" with thought leaders CK Vishwakarma, Founder of IoTSG and CEO of AllThingsConnected, Aaron Tan, Chairman of IASA Asia Pacific Chapter, Dr. Adisak Srinakarin, Executive Vice President of Electronic Government Agency (EGA), Mark Roberts, Director of Product & Marketing Management of Rittal ANZ and Hisham Muhammad, Director for Global Solutions Architects of Equinix Asia, a forum of experts who will provide a well-balanced perspective from a consulting, buying and selling point of view.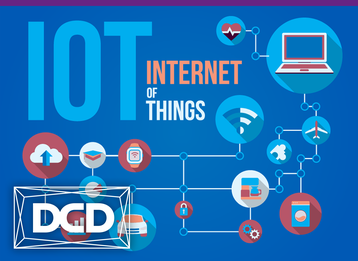 In the lead up to DCD>Zettastructure, we asked CK Vishwakarma, Founder of IoTSG and CEO of AllThingsConnected, his opinion on the impact of IoT on data centers as a sneak peek into the session.
What do you see as the greatest impact IoT will have on data centers in the future?
In my view the greatest impact of IoT in data centers will be on energy management and efficiency. Currently, data centers consume tremendous amount of energy; by designing hyper localized solutions with help of sensors and deep tech such as AI/ML, we should be able to optimize the energy consumption at the rack & equipment level.
How will business have to evolve to adapt to this development?
While most of data center business models are based on rack space, and the owners generally distribute the OPEX across all subscribers; but with IoT the cost structure could be dynamic beyond just physical rack space and allocate costs to individual users.
What will be the right digital infrastructure mix to deliver IoT?
While most data center infrastructure is not fully ready for the advanced benefits possible from IoT analytics, it depends largely on the analysis of the facility and user profile to identify the organisation's need from which the base level investment required to make the data center progressively smarter can be calculated. With the cost of communication, CPU and SoCs going down, so will the cost of infrastructure. However there is still a skills shortage of professionals who can create an optimum solution to address such needs. We at IoTSG aim to address this skills gap as well.
Taking the next step to a Zettastructure world
With zettabytes of data being transferred daily across the globe, the zettabyte era is upon us. Join Sonu and 80 other industry leaders at the most in-depth digital infrastructure summit for the Southeast Asia region. Headline sponsored by ST Telemedia Global Data Centres (STT GDC), the conference will have 3 main conference halls covering IT infrastructure, Colo+Cloud and Data center facilities, key issues such as Hyperconverged infrastructure, Cloud 2.0, edge-computing technology, data center selection and more will be discussed and debated alongside 50 technology showcases at the expo hall.
DCD>Zettastructure is part of the larger SE Asia Datacenter Week 2017 with Principal Industry Partner, Singtel – a week of networking and knowledge sharing through workshops, DCPRO training, conference & expo, Data center tours by Singtel, STT GDC, VADS and more.
The Datacenter Week will also mark the start of the release of results for the Datacenter Week Awards, with the finalists being announced in Singapore, and the winners in Hong Kong on November 10. Bringing the community together with the wider Asia region, the Datacenter Week Awards together with headline sponsor ZTE, celebrates the success of new technology and best practices adoption in Asia in the past 12 months.
Qualified end-users can apply for complimentary registration
DCD adopts a 'free-to-attend, by invitation' event model for qualified end-user business executives, managers and technical professionals directly engaged with IT, data center and cloud infrastructure. If your company operates its own on/off premise data center(s), or if you are a significant end-user of data center and cloud services and you are involved in technology planning, procurement, implementation, and operations, then you may qualify. Complimentary registration for DCD>Zettastructure qualified applicants ends Aug 20, or when 'free' allocation filled.
New to DCD: A complimentary Professional Advisor Passes is also available to one engineering/technical professional with management title/responsibility from each A/E consultancy/advisory firm (subject to criteria).
Find out more about which pass you qualify for and register for our upcoming conference, DCD>Zettastructure here.
For any inquiries about registration please contact us at apacteam@datacenterdynamics.com