At its annual Discover conference in Las Vegas, Hewlett Packard Enterprise has announced the upcoming release of infrastructure management application OneView 3.0, which applies software-defined intelligence to HPE's on-premises systems such as ProLiant, BladeSystem, Hyper-Converged Solutions, HPE 3PAR StoreServ and Synergy.
Set to come out in the third quarter of this year, the updated app brings a new dashboard, integration with HPE Helion CloudSystem 10 to give more control over physical servers and virtual clusters, and integration with the HPE Intelligent Management Center for simplified end-to-end management of network switches.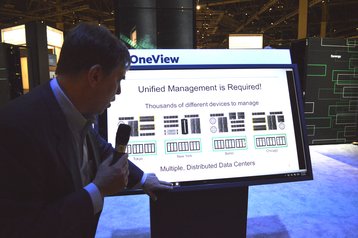 Synergizing
The move comes after the announcement of HPE's composable infrastucture platform 'Synergy', which laid the groundwork for the company's composable infrastucture plans. The new version of OneView aims to provide some of the abilities of composable infrastructure management, without having to own Synergy kit.
Ric Lewis, SVP and general manager of converged data center infrastructure, said: "We're talking about the whole system put together and designed to do this capability. You can't do all of what Synergy can do, because that was designed for this. But it can do a lot of it."
Lewis continued: "Organizations need tools that enable them to simplify IT operations, respond to business demands at cloud speed and increase productivity, ultimately freeing up IT resources required to deliver new and innovative services to their customers. Our mission is to make IT simple for customers.
"Whether they are managing and maintaining infrastructure, running traditional applications or developing new revenue generating services on cloud native applications, HPE OneView is the infrastructure automation engine built to make that all possible."
One of the key highlights of the new application is the 'Global Dashboard', which allows companies to view all of their infrastructure on a single screen.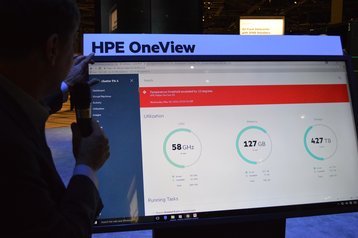 Brad Kirby, director of product management for OneView, told DatacenterDynamics: "On dashboard: One of the challenges that we find a lot of our enterprise customers facing is that they have data centers in multiple locations, or they have remote offices or branch offices they need to manage. They also may have thousands of systems that they have to manage, and typically they have had multiple tools to do that, and really the requirement is that they need a unified management experience, that goes across each of those environments.
"And that's what the HPE OneView Global Dashboard is all about… [You can] do detailed troubleshooting, start to vend virtual machines, expand my virtualization cluster. And then finally, you can get an aggregated view of all of the activities across those thousands of servers - hardware failures, backup failures - whatever it may be, and consolidated inventory reporting across that entire environment, which I can export to CSV and start to use for planning processes.
"You need the ability to scale to manage thousands of systems. You need instant access to all of your activities and your inventory information. You need to be able to manage all of your systems – Synergy, Apollo, HT380, etc. – they're all manageable from the global dashboard.
"As we move forward, we'll be looking at things like replicating settings and templates and profiles across multiple appliance instances to ensure configuration consistency."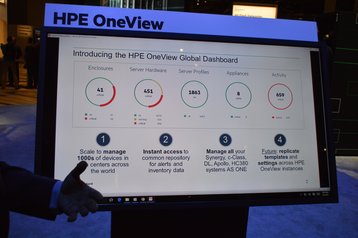 Vikram Fernandes, 'father of the global dashboard' and HPE software architect, told DCD: "When you have critical issues, you only have a certain time window through which you have to fix it. You cannot be looking at all Excel spreadsheets, looking at what your login information is, right? You want a single view, where you have all of these critical issues documented – not across multiple systems, but in one system – and in context, launch from there directly to the right appliance, fix the problem, quickly.
"So the whole idea is, more often than not, IT administrators and so on get called at the wee-hours of the morning that there's a major issue. But when you're not at your full 100 percent senses, you do not want to be looking at spreadsheets and fact-fingering."
During Discover, HPE also revealed that healthcare provider Asante has already begun using OneView. 
Michael York, systems engineer at Asante, said:"HPE OneView is a really slick tool for managing configuration consistency and enforcing compliance across the enterprise. We needed a solution that would scale forward and run Epic across multiple data centers. As a small IT organization, we also wanted to move away from designing and developing the infrastructure ourselves to more of a converged infrastructure that's fully engineered and certified for Epic. HPE delivered on all counts, and more."