Microsoft has struck a deal with General Electric to use all of the energy produced at GE's recently built 37MW wind farm in County Kerry, Ireland. The company states it will use the energy to support the expansion of its cloud services in the country.
The technology giant signed a 15 year power purchasing agreement with GE, bringing its total direct procurement in renewable energy projects close to 600MW.
Aiming Green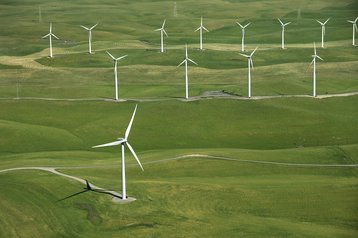 As part of the deal, Microsoft also received an Irish energy supply license, which it says will allow it to further invest in renewables over time, with the assistance of energy consultancy firm ElectroRoute.
In addition to their energy supply deal, Microsoft and GE will collaborate on energy storage research. In the first such project in Europe, all turbines on Tullahennel farm will have an integrated battery, which will allow for tests on how well excess wind energy can be stored, potentially even feeding some back to the grid.
Technically speaking, Microsoft's data centers are carbon neutral, thanks to the company's use of carbon credits and power purchase agreements. But last year, it promised to ramp up its direct use of renewable energy sources, aiming for 50 percent of the energy it uses to power its data centers by the end of 2018.