Equinix has announced its $190 million eight-story AM4 tower will open weeks from now, on July 5. The glass-faced facility has been built on a lot next to existing Equinix data centers in Amsterdam's Science Park.
The building has been planned for some years, and when Equinix acquired a number of data centers from Telecity in 2015, the four in Amsterdam were re-numbered AM5 to AM8, to leave the AM4 name available for the flagship.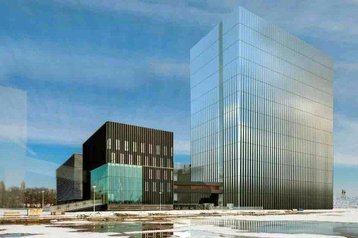 It's pretty big for an edge site
Despite its size and central location at a global interconnection hub, Equinix is positioning AM4 as an edge facility, according to the blog post announcing the launch date. 
"The digital edge is where business is done today," said Michiel Eielts, managing director of Equinix Benelux. "It's where commerce, population centers and digital ecosystems meet."
AM4 is 230 feet tall, and will have room for 1,550 cabinets in its first phase and 4,200 when fully built out, with a usable floor space of 124,000 sq ft (11,500 sq m). Equinix calculates that fiber connections from Amsterdam Science Park can reach 80 percent of Europe in less than 50ms. It also has fast access to customers in other local Equinix data centers, the company helpfully points out. 
The construction is an engineering triumph, Equinix' EMEA president Eric Schwartz told us a year ago when construction started. Amsterdam's soil conditions demanded very deep pilings, and the space was constrained as the plot is adjacent to university land. Among other things, Equinix had to dig a large moat around its data centers. 
With the acquisition of four Telecity data centers, it might be thought that Equinix wouldn't need so much new space, but Schwartz told us, the Telecity facilities mostly arrived with a full complement of customers in place, so the company needs more floor space for the new business that is arriving. 
To get a feel for how excited Equinix is, enjoy the video embedded below.