Celebrating 14 years in the Big Apple, DatacenterDynamics today officially launched its 2016 conference and expo campaign for DCD Enterprise, April 19-20 at the New York Marriott Marquis, Time Square.
Building on the success of 2015 which saw the event grow to two days and welcome more than 2,500 delegates, the DCD team is already seeing enhanced levels of patronage for 2016 and early commitments from industry heavyweights to participate in the program.
Jim Leach, VP Marketing at RagingWire Data Centers, a lead sponsor of the event says, "We love the energy of DCD and the chance to interact with other data center leaders. We're expecting big things from the 2016 DCD Enterprise in New York City, and we're proud to be a part of it."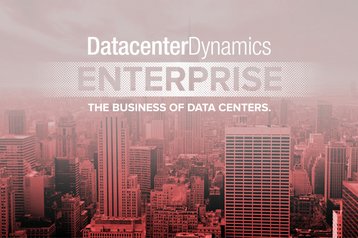 A thought-provoking speaker line-up includes Lauri Saft, VP, Watson Ecosystem at
IBM looking at how organizations will build their applications around cognitive computing, Joe Weiman, the leading authority on cloud economics and business value, as well as participation from IT leaders at the major Financials including BlackRock, Fidelity, Morgan Stanley and Goldman Sachs who will share their own IT transformation challenges.
"The dilemma for all IT organizations isn't whether to change the way they do things, but which of the new and many paths paths to take," says Kfir Godrich, Global Head of Technology at BlackRock who will be speaking at the event. "[This] conference program embraces the need for a much more holistic discussion about the future of data center and cloud infrastructure that will help people make better informed decisions."
"Over the last year, we honed our conference format and content to host true leadership discussions about the nature of digital enterprise transformation and the continuous need to understand the nature of accelerating innovation in the network and data center that makes that possible." says Bruce Taylor, EVP North America, DatacenterDynamics. "We pride ourselves on the highest program quality breadth of coverage of any data center and cloud infrastructure-focused event. Now we're raising the bar even higher by introducing a free, by-invitation-only, delegate registration, that will truly represent the full data center decision-making ecosystem."
Awards Gala Dinner moves to same week as DCD Enterprise
The North American DCD Awards gala banquet and prize-giving ceremony has been moved to coincide with DCD Enterprise and will be held at Capitale on the evening of 20th April. "It makes great sense to take advantage of the heavy footfall we expect in New York next April which will make this an unmissable few days," says Dan Scarbrough, Co-Founder, DatacenterDynamics.
DCD Events go free-to-attend
DCD is moving to a free-to-attend event model for qualified end-users. If your company operates its own on/off premise data center(s), or if you are a significant end-user of data center and cloud services and you are involved in technology planning, procurement, implementation, and operations, then you qualify for a invitational complimentary pass Click here for details