Singapore Datacenter Week 2016, which ran from 13 - 16 September 2016, culminated at the end of the week with its partner event – the Singapore Formula 1 Grand Prix. The highlight of the week was a 2-day conference & expo, DCD Converged SE Asia which convened 1,500 thought leaders and decision makers of the ICT and data center sector.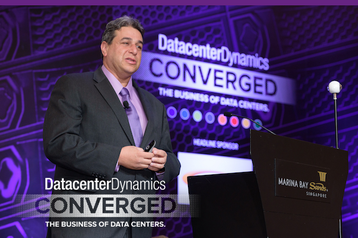 DCD Converged SE Asia 2016 celebrated Singapore's progress in its journey to becoming a Smart Nation. "Singapore, as with the rest of Asia, is positioned attractively to grow as a successful bed for Data Center projects. We see strong numbers of new users and a large increase in activity in the region over the last few years," said Yuval Bachar, principal engineer of global infrastructure architecture and strategy at LinkedIn.
This is further substantiated by DCD Intelligence (DCDi), the business intelligence division of DatacenterDynamics (DCD), which revealed that between 2016 and 2020, investment in facilities in Singapore will increase at a CAGR of 8.6 percent (DCDi studies 2014 & 2016). The purchasing of services (colocation, outsourcing, cloud) will increase by 16.4 percent CAGR over the same period. These levels of projected growth are high when compared to established IT infrastructure markets across the world. The key reason for this continuing level of growth is Singapore's continuing role as a springboard to the most significant growth region in the world - fast-emerging markets in Asia Pacific.
Yuval Bachar kicked off the conference and expo with a plenary keynote on LinkedIn's Open19 initiative, a technology that shares server and storage solutions with the whole industry, supporting the open-source data center transformation journey to hyperscale.
Other international speakers, including Leo Chen of Alibaba and Gautham Vunnam of Facebook, shared their strategies on various issues surrounding transformations in the IT stack – from the move into open source, hyperconverged data centers, cloud networking and managing the data boom. Ed Ansett of i3 Solutions looked at the pressing risks addressed by cybersecurity, presenting a jarring rundown of critical infrastructure attacks, and setting the case that this issue needs to be addressed urgently.
The week also included a forum by The Green Grid, an Open Compute Project Introductory Day presented for the first time in Asia, data center and solutions tours by Telin, data center-specific training by DC Professional and networking evenings.
What's next – DCD Converged Hong Kong 2016
Looking forward, as part of Hong Kong Data Center Week 2016 (7-11 November), the 7th DCD Converged Hong Kong is set to welcome 500 senior IT professionals as well as 30 exhibitors and 30 speakers on the 9th of November. Supported by the Office of the Government Chief Information Officer (OGCIO), the conference & expo will focus on major challenges faced in Hong Kong, as a mature DC market, with the architecting of the next generation cyber-physical infrastructure. The tension between progress with trends such as IoT, software-defined and automation, together with the risks they introduce, including the rise of intelligent machines, negligence and cybercriminals will be discussed and debated. According to a recent DCDi report, Hong Kong is very much an IT market in the ascendant with all of the opportunities and challenges that growth and change presents.
The week will also feature data center tours conducted by principal industry partner, Digital Realty, more data center-specific training, as well as the highlight – the 3rd APAC DCD Awards Ceremony and Gala Dinner. Known as the 'Oscars' of the data center industry, this year, the ten awards categories received an impressive number of entries from over 10 Asian nations including Australia, China, Hong Kong, India, Singapore, Indonesia, Korea, Malaysia and Philippines. Find out more about the shortlisted finalists here.
Qualified end-users can apply for DCD Converged HK complimentary registration
DCD has moved to a 'free-to-attend, by invitation' event model for qualified end-user business executives, managers and technical professionals directly engaged with IT, data center and cloud infrastructure. If your company operates its own on/off premise data center(s), or if you are a significant end-user of data center and cloud services and you are involved in technology planning, procurement, implementation, and operations, then you may qualify.
Register here.