Technology watchers understand that Goldman Sachs fully intends to lead the global financial services sector as a "digital-facing, digital-first" enterprise. A recent Goldman report says that a new technology is about to take "center stage." It's not likely that Goldman allows such statements to be made lightly. IBM, in its realm of influence, is no less enthusiastic, embracing a technology known as "blockchain" as the next evolutionary step in electronic payments management systems. And while the jury is still out on the notion of the rise of algorithm-based cryptocurrencies, the underlying technology known as blockchain is fast gaining traction.
Why is this even a topic for a DCD conference that focuses solely on infrastructure? Because "it points to two important factors: first, it demonstrates how quickly technology innovation can go from largely unheard of to attracting business start-ups and investors," says Bruce Taylor, DCD executive vice president. "That has an impact on full-stack infrastructure planning – even if small right now. Secondly, it suggests a new cloud model that wasn't even in the lexicon two years ago, but may be a massive boost in decentralized computing productivity."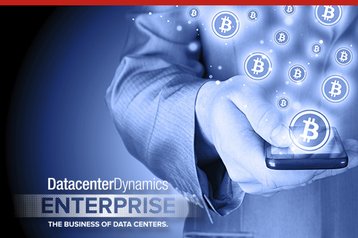 The cloud is dead. Long-live the "thin" cloud.Leading an expert panel on this aspect of cryptocurrency trade processing management is start-up venture advisor, Toronto-based William Mougayar, principal of Virtual Capital Partners. Blockchain is a proto-case of open-source disruption, and Mougayer is on the board of OpenBazaar, the open-source protocol for pioneering decentralized peer-to-peer commerce (no middleman).
"IT used to be primarily a business process re-engineering enabler," says Mougayar, then along came the Internet and disrupted IT with the advent of web architectures, then cloud computing re-defined data centers and where applications reside."Now, blockchain is the most important re-engineering enabler over the next 10 years. True that blockchains may not be not perfect (yet), but they're a perfect catalyst for business process change."
What is blockchain? "Seen from a computing infrastructure lens, (it's) a network of computers, like a thin cloud, and it's more ideally suited for running a new breed of thin programs, specifically known as 'smart contracts'; business logic that executes on the blockchain's Virtual Machinery," says Mougayar. "Today, the gap between IT's understanding of the blockchain, and business people's understanding of how to apply its uses is very wide."
Notice the gap
"One of the things we look for in planning content," says George Rockett, DCD CEO and co-founder, "is gaps such as what blockchain represents. In this case it's between digital-facing business and IT. But it's also between conceptions of centralized and decentralized computing. The role of DCD conferences is to identify those gaps in understanding, and bring together the parties on either side of the gap to create not only a new understanding but a new, converged way."
"This topic is one that gives us a unique way in which to examine how an enterprise might take on the exploration of what blockchain might mean to them. If, as Mr. Mougayar says, "it's a major new disruptive force for IT in the software-defined data center era, then I think it behooves us to pay close attention."
Does your IT, data center and cloud capacity planning team have good insight into how it identifies potential business technology disruptors? Think it might be worthwhile participating in a session where there are others who are already on the path with blockchain technology?
Visit the DCD Enterprise website for further event information, and to get involved on the conference program, contact Giovanni.zappulo@datacenterdynamics.com or join our eco-system of 100+ technology and service vendors contact matteo.coppola@datacenterdynamics.com