DCD's 10th anniversary SE Asia conference will be held at the Marina Bay Sands Convention Center on the 14/15th September - the flagship event of Singapore Data Center Week - which expects an audience of over 1,500 of the region's most senior IT infrastructure professionals. 
"Over the past two years, this event has gained significant traction with the ASEAN data center community; which last year made up more than 30% of the delegates," says Vincent Liew, Managing Director of DatacenterDynamics Asia Pacific. "The rapid growth of this market sector is attracting significant attention at home and from overseas. Data center and cloud transformation will top the billing on the two day conference agenda, which sees the participation of the Open Data Center Alliance, the Open Compute Project, the Green Grid and a host of international speakers.
Singapore activity a focus for discussion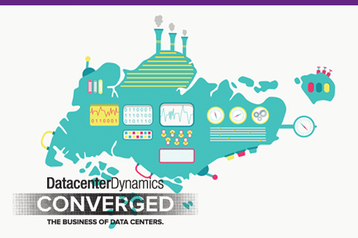 This is a prolific year for data center supply with new facilities being opened by 1-Net, Telin (one of the event's principal sponsors), Keppel, DRT, STTelemedia, Starhub, and Global Switch. Senior representatives from many of these organisations will be participating in the conference programme.
"With significant new capacity coming to the market, I am particularly interested in how service providers will adapt to a more tenant dominated negotiating landscape," says James Soh, Lead Data Center Consultant at Newwit Consultancy - who will be leading a number of the discussions.
Other Singapore-centric sessions will include the influence of data center infrastructure on the Smart Nation project and the IDAs Tropical Data Center (TDC) project which plans to conduct trials of what it calls the world's first data center designed specifically for tropical climates, as part of a bid to drive innovation and explore new green technologies.
Qualified end-users can apply for complimentary registration
DCD is moving to a 'free-to-attend, by invitation' event model for qualified end-user business executives, managers and technical professionals directly engaged with IT, data center and cloud infrastructure. If your company operates its own on/off premise data center(s), or if you are a significant end-user of data center and cloud services and you are involved in technology planning, procurement, implementation, and operations, then you may qualify. 
CLICK HERE to apply.