For over two decades, enterprises have recognized the benefit of migrating their critical IT to third party colocation facilities. Doing so allows them to leave the complexities of running their own data center to the experts, which can often be capital-intensive, and redirect their resources to their core competency. Choosing the right colocation facility, though, is a big decision. You have to trust that the data center's infrastructural resiliency and operational rigor will ensure your systems will never go down. Luckily, there's a healthy line-up of colocation providers that focus exclusively on honing their design, build, and operational expertise. Before figuring out who you'd outsource your mission-critical workloads to, the most foundational question must be answered: where?
The City of Angels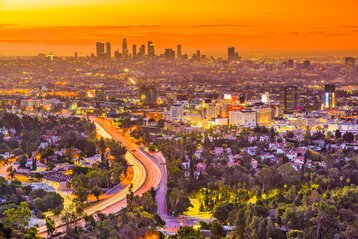 No matter what an organization's mission may be, they are undoubtedly providing some sort of a product, service, or solution. And today, in the 21st century, Internet infrastructure is inevitably used to enhance a company's ability to deliver. Wouldn't it then make sense to deploy IT infrastructure in a location that allows you to serve the largest number of consumers effectively? Even if the product or service isn't digital by nature, making sure the greatest number of employees and capital investments are seamlessly empowered by IT will optimize results. Since distance from critical IT introduces network latency, which dilutes performance, selecting a location with the most robust and diverse connectivity is crucial.
The multi-tenant data center industry got its start in mixed-use office buildings across a handful of the largest metropolitan centers. "Server huggers" felt the need to remain close to their precious infrastructure. But over the years, companies warmed up to distancing themselves from their gear and data center development got largely redirected from major urban cores to surrounding suburbs with lower land and power costs. Eventually, the colocation industry made its way to even cheaper locations in and around second- and third-tier cities. The problem is that there are fewer connectivity options outside of the major urban cores. This drives up connectivity prices, since there's less competition between carriers, and diversity in routes is often limited. For some workloads, off-the-beaten-path-destinations are acceptable. But that doesn't mean colocation in urban centers no longer has value. In fact, for companies with ambitions in the western United States or international markets, colocating in a city like Los Angles is essential.
Nowhere else in the western United States could you deploy IT and achieve direct access to a larger number of potential customers. Not only is Los Angeles the second largest metropolitan area in the U.S., with over 13 million people, its connectivity ecosystem maximizes your IT's radius of coverage well beyond the city limits. Downtown Los Angles features several carrier hotels with a dazzling array of connectivity providers and offerings. A single IT deployment in Los Angeles, interconnected with carrier hotel ecosystem, can achieve low latency connectivity not only with the 13 million resident "eyeballs", but also nearly any end point across the world.
Some organizations have outsourced their IT to Las Vegas, attracted to its comparatively cheaper land and power. This is by no means a substitute for colocating in Los Angeles. The typical latency between Los Angeles and Las Vegas is 5 milliseconds. This is not satisfactory for next-generation applications, which require sub-5 millisecond latency to achieve flawless performance and a seamless end-user experience. In fact, colocating outside of even downtown Los Angles doesn't provide close enough access to the valuable connectivity ecosystems that can transform a single deployment into a global dissemination hub. Luckily, selecting a colocation facility downtown no longer means settling with an inefficient and insecure mixed-use facility. There are purpose-built data centers in the urban core with the same sophistication and security of those built in more remote locations.
The top global CSPs, OTTs and CDNs have recognized downtown Los Angeles' unique benefits and many established major points-of-presence in colocation facilities throughout the urban core. They realize the connectivity savings and expanded reach more than makes up for any premium colocation costs. Additionally, media, financial, and web giants have colocated significant environments downtown. Many forward-thinking, IoT-powered industries - such as ride-sharing and smart cars - are also deploying their systems in multi-tenant environments in downtown Los Angles out of necessity, because latency in such a vast local market can result in catastrophic consequences.
Companies colocated in Los Angles are well-positioned to not only serve the robust local market, but also to pursue their international ambitions. Over the years, the magnitude of subsea cables connecting Los Angles to the Asia-Pacific region has grown rapidly. For example, The SEA-US cable, which connects Los Angles to the Philippines, Indonesia, Guam, and Hawaii, launched in 2017. Looking ahead, the JUPITER cable, which is due to provide high speed access between Japan, the Philippines, and Los Angeles, is scheduled to be ready for service by early 2020. While these capacity additions support local entities' global initiatives, they have also attracted several Indian and Chinese service providers to colocate in the market. Low latency connectivity to APAC will soon be complemented by an express route to Latin America. Google's Curie cable system scheduled to be customer ready in 2019, will connect Los Angeles to Valparaiso, Chile.
Workloads colocated in Los Angeles not only benefit from expanded reach, but also the plethora of IT service providers that have gravitated to the market for its connectivity. Lifting and shifting gear to a colocation data center "as is" often isn't an organization's end game. Moving gear off premises is frequently just the first step in a long digital transformation journey. When selecting a colocation destination, you should not only seek a resilient, well-operated facility that provides access to a robust connectivity ecosystem, but also a vast community of service providers that can add sophistication to your environment over time. By colocating in downtown Los Angeles, best-of-breed IT service providers that can introduce scalability and elasticity to your environments are just a cross connect away. Rather than relinquishing full control of your systems to an overpriced systems integrator that offers everything (but isn't an expert at anything, per se) you could colocate in downtown Los Angeles and establish ultra-low latency links to the best provider for each service you need.
In a world gravitating toward distributed IT and multi-cloud strategizes, it's highly unlikely that an organization would deploy every application in a single execution venue in one location. But, that doesn't mean the placement of each point of presence isn't critically important. Downtown Los Angeles is a highly strategic destination for consideration with a unique ecosystem that empowers mission critical applications to optimize business outcomes.