The controversial 'city-within-a-city' proposal from Alphabet subsidiary Sidewalk Labs in Toronto aims to harness waste heat from a data center.
The 1,500 page proposal from the Google sister company to create "a neighborhood built from the Internet up" has been met by local opposition and criticism from regional media outlets, concerned about its use of public assets, and potential misuse of personal data.
Sidewalk's 'Master Innovation and Development Plan' (MIDP) will next be analyzed by Waterfront Toronto, a city agency, and voted on by its board and the Toronto city council in late 2019 and early 2020. Should it pass, Sidewalk plans to begin construction before 2021.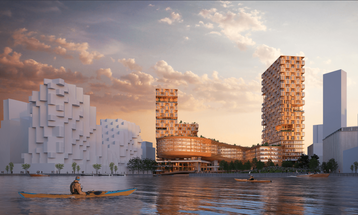 Keeping warm with a data center
While the project still has hurdles to overcome, and has its fair share of critics (see below) one of the less controversial aspects of the MIDP is that of energy infrastructure and heat reuse. In Chapter 4 of the proposal, Sidewalk pitches a thermal grid that incorporates at least three primary types of clean energy sources: on-site and off-site building waste heat, on-site geothermal heat, and off-site wastewater heat recovery.
"The system would also be designed to accept off-site industrial waste heat (such as heat rejected by data centers, local manufacturing, and power generation plants) to help reduce costs."
The proposal notes that the waste heat from server rooms in commercial buildings could be harnessed, and adds: "Sidewalk Labs has initiated explorations into accessing the waste heat of a data center near Quayside, where computer servers generate considerable heat year-round."
Chapter 2 includes a map featuring the "commercial data center," just outside of Sidewalk Labs' Quayside area on Parliament Street.
That location matches that of an Equinix facility - the TR2 data center. DCD has contacted Equinix to confirm that its data center could be used in the Sidewalk city project.
The five-story data center spans 236,000 square feet, with 140,000 square feet of raised floor space. It has a maximum power capacity of 16MW, and a targeted annualized power usage effectiveness (PUE) of 1.2 to 1.3.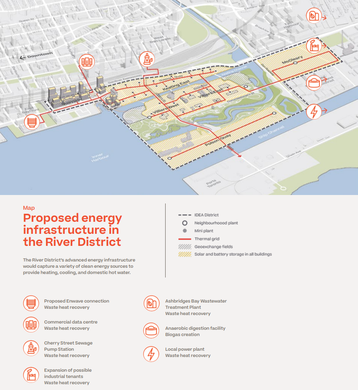 Leaked documents
Sidewalk's Toronto machinations were first revealed in 2017, when it announced that it would partner with Waterfront Toronto to turn 12 acres of under-utilized waterfront property known as Quayside into a sensor-packed smart city.
Led by CEO Dan Doctoroff, previously the deputy mayor of New York City, the subsidiary is not without its share of controversy. Privacy advocates remain perturbed about the city's mass data harvesting - with several advisors to the project, including the former Information and Privacy Commissioner for Ontario, Ann Cavoukian, resigning over concerns about the potential misues of personal data.
Sidewalk said an independent trust would handle all data matters, and added that the company would not sell personal data, use it for advertising or share it with third parties without user consent. It also promised that Sidewalk would de-identify data and not send it to the cloud, but did not clarify whether the data trust would do the same.
Others have raised the issue of public land being run by a major corporation. Then, earlier this year, the The Toronto Star reported on leaked documents that revealed the company was secretly looking to expand the smart city over a 350 acre plot.
The internal documents also showed that Sidewalk Labs wanted to collect a share of the property taxes, development fees and increased value of city land that would usually go to the city administration. The overall revenue, once homes and offices are built, is predicted to be CA$6 billion (US$4.5bn) over the next 30 years.
While Sidewalk expects to invest CA$900m (US$684m), the federal, provincial and city governments have pledged to spend CA$2.5 billion (US$1.5bn) to protect the wider Port Lands from climate change-induced flooding. Sidewalk also predicts that the development will lead to an additional CA$38 billion (US$28.8bn) in private sector investment by 2040.
Another leaked document dealt with potential negative public perception: "Despite a steady beat of negative press, our key government, community, and waterfront advocates remain cautiously supportive - and public opinion polling is mostly unchanged from six months ago. The majority of the negative press coverage is rooted in an anti-global tech giant narrative being spun by former RIM co-founder Jim Balsillie and disseminated through the Canadian Council of Innovators."
Jim Balsillie, who left RIM in 2011 and went on to found the think tank the Centre for International Governance Innovation, has been a vocal critic of the project. He told Maclean's: "I was taken aback that we would, without proper expertise, capitulate and give that much power to a foreign firm, just as the rest of the world is pushing back."
The leaked Alphabet documents continued: "This underscore[s] the need for us to provide more positive and concrete examples about the project's benefits for Torontonians' quality of life and economic opportunities so the negative narratives do not go unanswered."
But despite Sidewalk's best efforts, reservations still exists - including from the organization whose input really matters, Waterfront Toronto.
After the MIDP was made public, Waterfront Toronto's chairman of the board of directors, Stephen Diamond, published an open letter distancing the group from the plan.
"Based on our initial review of the MIDP, there are a number of exciting ideas that respond to challenges we face, particularly related to environmental sustainability and economic development. There are also proposals where it is clear that Waterfront Toronto and Sidewalk Labs have very different perspectives about what is required for success," Diamond said.
He then noted some "early examples" of concerns:
"Sidewalk Labs proposes the up-front creation of an IDEA District that covers a much larger area than the 12 acres of Quayside. Waterfront Toronto has told Sidewalk Labs that the concept of the IDEA District is premature and that Waterfront Toronto must first see its goals and objectives achieved at Quayside before deciding whether to work together in other areas. Even then, we would only move forward with the full collaboration and support of the City of Toronto, particularly where it pertains to City-owned lands.
"Sidewalk Labs proposes to be the lead developer of Quayside. This is not contemplated in the PDA. Should the MIDP go forward, it should be on the basis that Waterfront Toronto lead a competitive, public procurement process for a developer(s) to partner with Sidewalk Labs.
"Sidewalk Labs' proposals require future commitments by our governments to realize project outcomes. This includes the extension of public transit to Quayside prior to development, new roles for public administrators, changes to regulations, and government investment. These proposals raise important implementation concerns. They are also not commitments that Waterfront Toronto can make.
"Sidewalk Labs has initial proposals relating to data collection, data use, and digital governance. We will require additional information to establish whether they are in compliance with applicable laws and respect Waterfront Toronto's digital governance principles."
Waterfront Toronto plans to release a document identifying a number of areas of the proposal that it believes are of particular public interest, and welcomed local comments and advice.