Expenditure by blue chips on outsourcing, colocation, managed and cloud services is set to almost double to $57bn by 2020 according to the latest findings from DCDi. But whilst public cloud adoption surges, the enterprise continues to struggle with compliance issues, data security and maintaining legacy infrastructure, the enterprise is being driven to explore private and hybrid models for their burgeoning capacity requirements.
Major colocation and cloud service providers and their largest end-users will converge on DCD Europe being held at ExCeL London on 18/19th November to map out an uncertain future.
"For some applications the cloud is still half-baked so the enterprise has to find other solutions to their scale-out challenges," says Jessica Constantinidis, Head of European Next Generation Data Centre Transformation at Dimension Data, who will be speaking at the event. "The private and hybrid approach presents challenging architectures that we need to respond to and requires strong partnerships."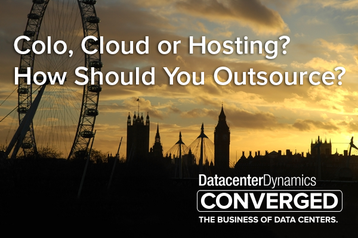 Will Cloud Exchanges help or hinder the way?
Amidst the complexities cloud exchanges are emerging and hope to accelerate and simplify the move towards multi-cloud environments.
"With Google, Microsoft and AWS carving out their dominance, we still believe that the future will include many outsourced service providers. They will thrive on platforms such as OpenStack", says Maximillian Ahrens from the Deutsche Boerse Cloud Exchange, who will outline DBCE's vendor-neutral IaaS exchange and how it can enable true cloud commoditisation. "Our long held belief is that cloud exchange platforms will be transformative to the industry, unlocking stranded capacity and creating new business opportunities."
Programme provides holistic approach to data center transformation
This year's conference programme will also highlight the challenges in delivering scalable hardware solutions for the provisioning of cloud services to clients. "As cloud service users' demands are becoming increasingly complex, service providers must keep up in order to deliver large scalable and flexible cloud solutions to clients" says Timothy Creswick, Founder and CEO at one of the UK's leading mid-tier Cloud Service Providers, Vorboss. He will be joining a panel alongside HP outlining hardware, cloud interoperability, hybrid connectivity and reliability challenges.
The two-day program will run separate tracks on infrastructure deployment strategies, design, and operational efficiency as well as on platform interoperability, investment, and demand-side dynamics. Running alongside the conference are interactive workshops and a series of high-level roundtables.
"As the Internet of Things, smart cities, big data and cloud drive the IT industry forward into unchartered territory, it is vitally mportant to not forget the engine that powers them – the data center," said George Rockett, CEO, DatacenterDynamics. "DCD has transformed over the last four years to become a truly holistic data center event that covers the whole IT stack as well as the mission critical services and engineering part. We are creating a collaborative environment where the many professional disciplines that touch the data center within large scale operators and end-users can come together to find cross-stack solutions."

Register today! More information on the multi-track conference programme and the expo can be found online and more detailed requests for information can be directed to Merima Dzanic.
If you are a significant end-user of outsourced data center services or technical/engineering professional from a service provider a limited number of free-to-attend tickets are available. To register use voucher code SERV2015 and click here.