Quantum computing startups Pasqal and Qu&Co are to merge into one company under the Pasqal brand.
Pasqal develops quantum hardware, while Qu&Co develops quantum algorithms and software. The two companies will merge and operate as Pasqal and be headquartered in Paris.
Georges-Olivier Reymond, CEO of Pasqal, will remain CEO of the combined company while Benno Broer, CEO of Qu&Co, will take on the role of Chief Commercial Officer.
The merged company will have operations in seven countries with more than 60 employees; Qu&Co's pan-European activities will continue under the names Pasqal Netherlands, Pasqal Germany, Pasqal UK, and Pasqal Spain.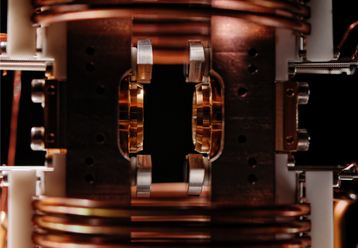 The companies say the combined entity will deliver a 1,000-qubit quantum solution in 2023. IBM is targeting the end of 2023 to deliver its 1,000-qubit Quantum Condor chip. Google aims to have a one million qubit quantum computer ready by the end of the decade.
"Leveraging the synergies of the two companies will further strengthen our full-stack, neutral-atom solution in achieving near-term commercial benefit," said Reymond. "Qu&Co's technology and exceptional talent base has proven itself across several industries and will allow us to compete with any quantum computing company in the world."
Founded in 2019, Pasqal says its 'neutral atom-based quantum technology' can operate at room temperature, compared to many quantum technologies which require supercooling. Qu&Co's has developed problem-solving tools for computational finance, fluid dynamics, and chemistry.
"Working with Pasqal on joint research convinced us their neutral atom technology is the best solution to attain real-world commercial applications in quantum computing," added Broer. "We were impressed by the performance of our algorithms on their hardware and the many significant contributions the company has made in the quantum industry."
Founded in Amsterdam, the Netherlands, in 2017, Qu&Co's customers include Covestro, BMW, Airbus, Johnson & Johnson and LG. In April 2021 Pasqal secured a €25 million ($28m) Series A financing round in April 2021 co-led by Audacia venture fund Quantonation and the French Defense Innovation Agency's Defense Innovation Fund. The company has raised $30.4 million in total. Last month Pasqal announced plans to build a 'Quantum Computing Center of Excellence' with 10 Nvidia DGX A100 systems.
2021 saw Honeywell and Cambridge Quantum merge and form a new company called Quantinuum. Quantum computing startup IonQ went public via a Special Purpose Acquisition Company (SPAC) merger, while Rigetti Computing announced similar plans later in the year.
Last week quantum computing hardware firm EeroQ announced it was moving its headquarters to Chicago at The Terminal. The company signed a lease for a 9,600 square foot engineering lab and office.
"Chicago will become a leading center for quantum computing," said Nick Farina, EeroQ CEO. "Talent and local support are critical, and we have found all of that in Chicago with a world-class base of quantum computing talent and unmatched local support. We conducted a national search for a headquarters and Chicago was by far the best option for us."