Cloud services provider Peak 10 has opened its third data center facility in Tampa Florida, a fortress-like facility which can withstand a Category 5 hurricane.
The two-story, 60,000-square foot (roughly 6,000 sq m) facility (details here), is built of pre-cast hardened concrete, and should shrug off the 157mph wind speeds of a hurricane at Category 5, which is the highest category on the Saffir–Simpson scale. Peak 10 believes it is the only data center this tough in Florida.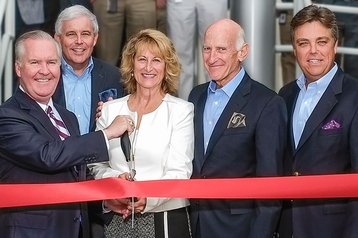 Hunkering down
"We are proud of our growing footprint in the region and excited that our new data center campus is a technology hub for supporting the local business economy.," said Cheryl Kleiman, Peak 10 vice president and general manager, who oversees Tampa operations. 
The data center is located outside the flood zone, and at a higher elevation. The site, on Parkedge Drive in Hidden River Corporate Park, next to the University of South Florida, reportedly cost Peak 10 $1.1 million. 
The facility includes the usual security measures, but also has showers and living facilities, in case staff have to hunker down there and wait out a severe storm. 
Tampa Mayor Bob Bukhorn was present to cut the ribbon, along with early customers in the facility. 
"Peak 10 has been a phenomenal company to work with," said Jordan Amerman, IT Project Manager for Florida-based software and consulting firm Five Points Technology Group, which now has colocation and hosting with Peak 10 - including a high speed virtual private link between two data centers in different states.
Links between data centers can allow customers to move data elsewhere in an emergency, but hurricane resistance is a selling point in a state which has seen destructive storms including Hurricane Katrina in 2005.
With this site, Peak 10's Tampa space comes to 129,000 square feet (12,000 sq m) in Tampa, while it has a total of 230,000 square feet (21,000 sq m) across Florida.