Meta, the company formerly known as Facebook, is expanding its data center campus in New Albany, Ohio.
"We're thrilled to share that we will soon break ground on yet another expansion of our New Albany Data Center!" the company said in a Facebook post this week.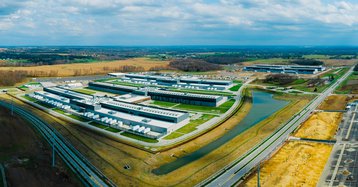 The company didn't provide details in the post, but in a statement to BizJournal confirmed the expansion will see two buildings added to the site totaling around 1 million square feet (92,900 sqm). The company noted that the expansion will takes its total investment in the campus to $1.5 billion.
Work started on the New Albany site in 2017, with the campus launching in 2020.
"This investment is a reflection of how important Ohio has become in building the technology infrastructure of America. Whether it's cloud infrastructure or computer chips, the future of the information sector and high-tech manufacturing are being built in Ohio, and we value the continued investment Meta is making in our state," said Ohio Lt. Governor Jon Husted.
After a large expansion spree in 2021, 2022 has seen Meta announce plans to expand its Gallatin data center campus in Tennessee, announce new US data center sites in Idaho, Texas, and Kansas City, along with a new campus in Spain.
State Senator Jay Hottinger, President Pro Tempore of the Ohio Senate, said: "Not only is Meta a world pioneer in the technology sector, but it was also a trailblazer when it chose to locate in Ohio's Licking County. Now numerous other technology giants have followed its lead and located here. We appreciate Meta's great investment in Ohio and we look forward to a long partnership into the future."
AWS, Google, and Stack all have facilities in New Albany in operation or development.
Sloan T Spalding, Mayor, City of New Albany, added: "It's gratifying as mayor when a company expands after their initial investment because it reinforces their excitement about being here. Meta has been a fantastic partner since they announced their New Albany Data Center in 2017, their continued growth is wonderful for our region, and their grant programs show their commitment to making a difference throughout the central Ohio community."