The Hiranandani Group is to construct six Yotta hyperscale data centers in West Bengal, India.
The firm says it will invest Rs 8,500 crore ($1.1 billion) to buy a 100-acre site at Uttarpara, Kolkata from Hindustan Motors to build six Yotta data center buildings totaling 250MW.
Register now for DCD's global summit on growing data center capacity demands
Bengal Yotta & Hiranandani's latest investment target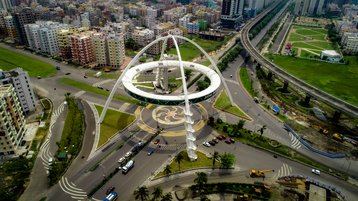 Mumbai-based Hiranandani has entered into a memorandum of understanding with the state of West Bengal to set up a logistics and hyperscale data center park. The first data center is estimated to be completed in 2023.
"West Bengal is the gateway to the east. It is an ideal hub for logistics and industrial development with excellent road, rail and riverine connectivity," said Darshan Hiranandani, Group CEO, Hiranandani Group.
"By setting up a data center park in Kolkata, we will not only serve the customers of the state but the entire eastern region including neighboring countries."
The logistics park will be delivered by Greenbase, a joint venture between Hiranandani and Blackstone Group. The first facility of industrial and logistics park will be ready by June 2022. Total investment for the whole park is estimated to be around Rs 10,000 crore ($1.3 billion).
This is the latest data center campus from the group. Last year Yotta and Hiranandanu announced an Rs. 3,000-4,000 Crore ($450-600 million), 200MW Chennai data center campus in Southern India. In November it announced plans for a $950 million, 200MW data center campus in Delhi.
In May 2020, Yotta announced its 50MW Yotta NM1 data center in Panvel, near Mumbai, had received a Tier IV Design award.