Google has launched a new cloud region in Columbus, Ohio.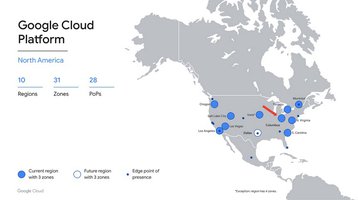 "We're thrilled to announce our newest Google Cloud region in Columbus, Ohio is open. The Columbus region (us-east5) provides you with the speed and availability you need to innovate faster, build high-performing applications, and serve local customers," the company said this week.
The new region – first announced in December 2021 and including three availability zones – is the second region in the Midwest, the 10th region in North America, and the company's 33rd overall. The company is due to launch another US region in Dallas, Texas, later this year.
Google broke ground on its $600 million data center campus in New Albany in 2019, and subsequently announced plans to invest an additional $1 billion to expand the site.
The company is also planning another campus in Columbus on the site of a former snake oil farm and has bought land in Lancaster.
"The proximity of the new Google Cloud region to Wendy's headquarters provides the ability for us to move and scale quickly as business needs evolve. Additionally, Google Cloud's investment in Columbus positions central Ohio as a true technology hub, which further boosts Wendy's and other regional employers' ability to recruit innovative talent," said Kevin Vasconi, chief information officer, Wendy's.
Amazon is also investing heavily in Columbus, while Meta also has a campus in the area.