With 13 award categories, the DatacenterDynamics EMEA awards celebrate data center projects of all sizes, from the biggest to the greenest and best across all sectors with many hundreds of great entries.
The DatacenterDynamics Awards has been often referred to as the 'Oscars' of our industry – and it is! The ceremony gives us a great night out, we mix with the most talented people in the greatest industry in the world and it is a highlight in the data center calendar. To even be nominated to this level is a great honor and real recognition from your peers.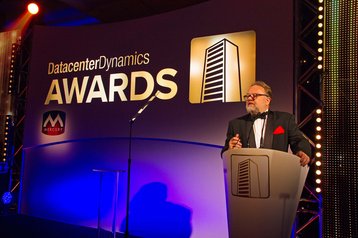 The DatacenterDynamics Awards is your chance to showcase the professionalism and ingenuity of your organization and your teams.
The awards always uncover remarkable stories of real success and achievement that the industry needs to hear about - and this Awards programme is central to that process: it is about your organizations, your teams and the individuals in your companies who make this industry special.
DatacenterDynamics is delighted and proud to announce the finalists for the 2014 EMEA Awards. The DatacenterDynamics Awards recognizes innovation, leadership and best practice. We celebrate what is great in our industry while never forgetting the most important question; how can we make it better?
We will crown Winners at our Gala Ceremony in London on 11th December. Over 600 industry professionals will convene for our black tie dinner and help us to celebrate the shared successes of the EMEA data center market.
To join us at our Gala Dinner, at the Lancaster Hotel London on 11 December, see details here.
COMPANY

PROJECT NAME

Iceotope

Iceotope Total Liquid Cooling

Equinix

EQUINIX CLOUD EXCHANGE

Sudlows Ltd

United Utilities Data Centre

CohesiveFT

Building Multi-Cloud Overlay Networks with Public Clouds

Infinity SDC Ltd

Janet/JISC Shared Data Centre Blueprint

NTT Communications

NTT Communications - Hemel Hempstead 3 Data Centre (Campus)

VIRTUS Data Centres

Intelligent design of VIRTUS Data Centres' LONDON2

Sudlows Ltd

United Utilities Data Centre

Workspace Technology

The Dual Containerised Mobile & Modular Data Centre for Nottingham Trent University

Powertecnique

MoD DataShelter Project

SummuS Render

SummuS Render Data Center. Hight performance computing para renderizar

Gulf Air

Gulf Air Data Centre

Workspace Technology

The Carbon Neutral Cooled Data Centre Facility for Leicester City Council

CGI

CGI - Energy Efficiency Initiative

Virgin Media

VM T0990 Project

Airbus

Airbus Aerospace Park IT Data Centre

Fujitsu

Project Empower : Working with Daxten to deploy Packet Power Wire Free Power Monitoring

Infinity SDC Ltd

Infinity's Shared Data Centre for JISC/Janet

iomart

iomart creates first Software Defined Data Centre

T-Systems Iberia SAU

International T-Systems Data Center in Barcelona

Leicester City Council

Leicester City Council's Carbon Neutral Cooling Modular Data Centre

The University of Portsmouth

The University of Portsmouth Data Centre

Powertecnique

MoD DataShelter Project

Central Bank of Oman

Private Cloud for Banking and Internal System

Equinix

EQUINIX CLOUD EXCHANGE (ECX)

CentriLogic

CentriLogic's Data Centre Infrastructure Powers Alcatel-Lucent's OpenTouch Enterprise Cloud Offering

Cartagon

Alain Afflelou in the cloud

UKFast

eCloud Vault

PORTUGAL TELECOM

PORTUGAL TELECOM DATA CENTER COVILHA

Sudlows

The University of Portsmouth Data Centre

Airbus Operations Ltd 

Airbus Aerospace Park IT Data Centre

Dell

Milton Keynes College & Dell UK

Telecity

 

Virgin Media

Project Red to Green

National Bank of Abu Dhabi

 

LAMDA HELLIX

Improving Energy Efficiency at LAMDA Hellix Athens I Data Center

Fujitsu

Project Empower : Working with Daxten to deploy Packet Power Wire Free Power Monitoring

VIRTUS

Virtus Intelligent Portal

National Bank of Abu Dhabi

 

pi

pi Implements Software-Defined Data Centre with KVM on Nutanix

Workspace Technology

Nottingham Trent University's 'Dual H Pod' Containerised Modular Data Centre Facility

Rack Centre Limited

Rack Centre (Phase 1A)

Utilex

The geo-distributed disaster-proof modular data center for Polyus Gold, Magadan oblast, Russia

Green Mountain AS

Green Mountain Telemark Data Centre Norway

Red Engineering Design Ltd

James Rowse

Arup

David West

Workspace Technology

Martin Wall

Cundall

Mazen Jamal

DataSpace

DataSpace Operational Sustainability Certification Team

Cundall

Cundall, Facebook, Emerson, Tyrens and SPARCH

IXcellerate

IXcellerate Phase II Team

CGI

CGI Data Centre Project Team
DatacenterDynamics Awards are run in the following locations: