Digital Realty has opened its second data center on the Profile Park campus in Dublin, Ireland.
The 5MW facility is located 30 minutes west of the city center, and brings Digital Realty's total investment in Ireland to more than €200 million ($224m). The data center real estate investment trust also said that it would further develop its two Clonshaugh facilities, just north of Dublin.
Doubling in Dublin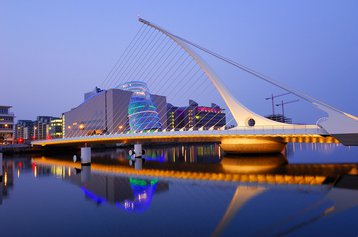 "Our new investment in Profile Park and ongoing investment in Ireland highlights our confidence that the technology sector in the region will continue to grow. Our research shows that decision makers in the sector share this optimism and expect the market to flourish in the coming decade," Val Walsh, SVP of portfolio at Digital Realty, said.
"The new facility has been built to a market-leading, quality standard that maintains Digital Realty's global standards and sets the benchmark for data centers worldwide. As we further invest and develop the campus, we will continue to innovate in our data center design and construction."
Digital Realty, which also operates a fifth Dublin data center in Blanchardstown, could expand its Profile Park presence further. The website of engineering consultant Cundall notes that "the 10 acres greenfield site, situated in Digital Profile Park Dublin, is capable of supporting the phased development of approximately 11.5MW of data center space across four separate buildings on a dedicated campus, totaling approximately 193,000 sq ft of space."
The Profile Park area is also home to a €150m ($168m) Google data center, as well as nearby Equinix and CyrusOne data centers.
But powering the data center boom in Ireland has proved difficult - just north of Profile Park is the Grange Castle Business Park, where Microsoft has set up 16 gas-powered generators to provide 18MW for its data center.