Nordic data center operator DigiPlex will connect its Stockholm data center to the local district heating system, providing enough hot air to warm 10,000 apartments, thanks to a deal signed  with Stockholm Exergi, (formerly Fortum Värme).
The project will be the fist time an operational data center, with an indirect evaporative air-to-air cooling solution, is retrofitted to recover excess heat, the two organizations say.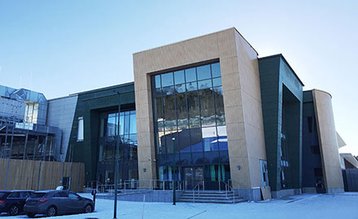 Browsing hurts the planet
"Every time we browse the Internet, stream a TV series or use the cloud, a process starts in a data center. If that data center is a power-hungry, fossil fuel-fired one that releases excess heat into the atmosphere, we as individuals are contributing to climate change," said Gisle Eckhoff, DigiPlex CEO. "Digitization needs to support improved sustainability."
The agreement took a couple of years to negotiate, but is technically not difficult as Stockholm has a well-developed district heating system, which passes very close to the DigiPlex facility, said Anders Egelrud, Stockholm Exergi CEO. This means that similar agreements in future may be easier to implement, said Anders Egelrud, Stockholm Exergi CEO: "In all businesses, proof of concept is of extreme importance." 
The deal shows that even efficient data centers, with indirect air-cooling can be adapted cost-effectively to reclaim their waste heat. 
"As part of our drive to make Stockholm fossil fuel-free, our objective is that 10 percent of Stockholm's heating needs shall be provided by recovered data center waste heat," said Egelrud. 
Stockholm is one of the few cities in the world where large-scale heat reuse from major data centers is possible, as nearly ninety percent of all buildings in the city are connected to the district heating network.
The Mayor of the City of Stockholm, Karin Wanngård, welcomed the announcement: "Digitalization must go hand in hand with the development of environmental technology. With Stockholm being in the absolute forefront of both fields this is a natural step for the city. I am determined to make Stockholm a major hub for sustainable data centers," she said - adding that Stockholm plans to be free of fossil fuels by 2040. 
Stockholm Exergi is  jointly owned by the City of Stockholm and Fortum, and has been promoting heat recovery since it first contracted to use waste heat from an IBM data center in 1979. Since 2012, it has operated Open District Heating ("Öppen Fjärrvärme"). It provides heating for more than 800,000 people in metropolitan Stockholm and cooling for over 400 hospitals, data centers and other properties.
In 2017, the City of Stockholm, Stockholm Exergi (as Fortum Värme), grid provider Ellevio and dark fiber operator Stokab launched a campus for green data centers called Stockholm Data Parks. Interxion, Ericsson and Bahnhof are already supplying excess heat from new data centers.