DatacenterDynamics returns to London's ExCeL in the Docklands on the 18/19th November for its 14th annual conference and exhibition, bringing together 3,000+ senior business, operations and technology representatives from organisations that rely on mission critical infrastructure from across Europe to discuss the future of this rapidly growing sector.
The heavyweight two-day conference programme, a hallmark of all DCD events, will run separate tracks on infrastructure deployment strategies, design, and operational efficiency, as well as on platform interoperability, IT sourcing, and demand-side dynamics. Running alongside the conference are interactive workshops, a series of CxO roundtables and an expanded expo floor with 100+ exhibits, all housed on one level.
Conference covers the whole stack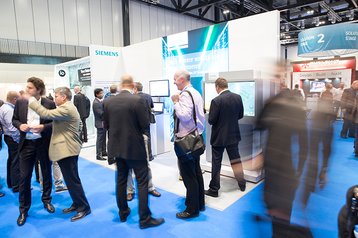 Major topics 'North of the rack' that will be covered this year range from the rapid proliferation of Software Defined Infrastructure and how it will shape enterprise data center strategy, to the changing nature of security threats in ever more distributed critical environments. 'South of the rack', we will explore how critical infrastructure requirements are changing, especially given the trend towards more hybrid solutions, and what DevOps adds to this equation.
StackingIT, an all-new knowledge component to our conference tracks will focus on the open-sourcing of the data center and the potential disruption of moving from proprietary to non-proprietary frameworks for technology development and acquisition. Discussions around cloud, IaaS and other outsourced data center services will feature prominently across the whole conference programme with relevance to different stakeholder communities.
"As the Internet of Things, smart cities, big data and cloud drive the IT industry forward into unchartered territory, it is vitally important to not forget the engine that powers them – the data center," says George Rockett, CEO, DatacenterDynamics. "DCD has transformed over the last 4 years to become a truly holistic data center event that covers the whole IT stack as well as the mission critical services and engineering part. We are creating a collaborative environment where the many professional disciplines that touch the data center within large scale operators and end-users can come together to find cross-stack solutions."
TEX Europe collocating with DCD Europe
Collocated with DCD Converged Europe at ExCeL on Day Two, the 19th November will be Telecoms Exchange Europ. This buy side industry networking event is designed to help enterprise and carrier network operators navigate through the many options for procuring capacity around the world, and has gained a significant following in the United States. Jamie Scotto, CEO of JSA Associates that runs the TEX events globally says, "We are delighted to bring our event model to Europe and be partnering with DCD. It supports the increased sourcing and procurement activities within the ever-expanding mission critical IT eco-system."
More information on the multi-track conference programme and the expo can be found online and more detailed requests for information can be directed to Merima Dzanic.