Cloud and data center services are the growth engine when it comes to enterprise IT spending in Indonesia, says Frost & Sullivan. As reported in the Jakarta Post, the two sectors are predicted to attain a growth rate of 605 percent and 317 percent respectively from 2013.
This hydge growth can be attributed mainly to adoption by small and medium enterprises (SMEs) in the country, says Ajay Sunder, vice president for ICT practice in the Asia Pacific region at research firm Frost & Sullivan. According to him, enterprise IT spending in the country is predicted to reach US$3.8 billion in 2019, up from $1.6 billion in 2014.
The government's $22-billion drive for a five-year broadband project to help improve the ICT infrastructure in the country could also be another driving factor, as noted by Indonesian Telematics Society (Mastel) chairman Setyanto Santosa in the report. After all, higher fixed-broadband penetration is the foundation for faster Internet–which in turn encourages more investments in ICT.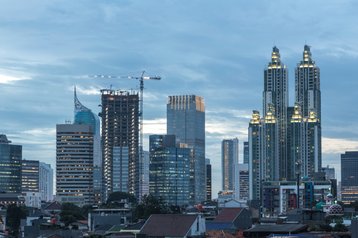 Infrastructure challenges
On the data center front, there is no question that the country faces various infrastructure challenges such as access to stable power and data networks that extend to some rural areas. However, some operators have managed to turn the former into a strength, as evidenced by PT Data Center Infrastructure Indonesia's (PT DCI's) data center in Indonesia. As we reported last year, the DCI data center incorporates an on-site power plant, and has been accredited with a Tier IV design certification by the Uptime Institute.
Regardless, the surge in active Internet users and mobile subscribers, which is projected by Frost & Sullivan to hit 200 million users and 470 million mobile subscribers by 2020, respectively, is driving a growth of data center and cloud-related activities in Indonesia in recent years.
Indeed, data from DCD Intelligence shows that the fourth most populous country on earth has an estimated 220,000 sq m of white space in 2013, which is a rise of 10 percent from 2012. Separately, global analyst firm Gartner had predicted last year that Indonesia's cloud market alone could see double-digit growth rates through to the end of 2016.
On a related note, the next DCD Converged conference in Indonesia will be held on 28 April 2015 at the Balai Sidang Jakarta Convention Center in Jakarta. You can sign up or request for more information here.