An issue with CenturyLink services has caused widespread outages in US Mountain States.
The cause of the multi-hour outage is not known.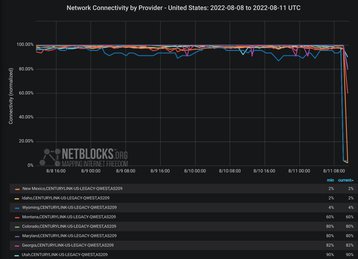 "Confirmed: Real-time network data show a major outage at US telco CenturyLink; metrics indicate high impact in the Mountain States," Internet outage tracker NetBlocks said.
Among those impacted are users in New Mexico, Idaho, Wyoming, Montana, Colorado, Maryland, Georgia, and Utah.
CenturyLink was not immediately available to comment. On Twitter, its service team replied to people complaining, asking them to direct message them for help, but did not address the wider issue.
We will update this story as we learn more.