ABB Electrification is offering immersive augmented reality services to improve support and maintenance.
The company has launched Closer, a set of interactive operational and troubleshooting step-by-step guides, and Raise for remotely guided repairs and maintenance of ABB products. The services are designed to make maintenance easier and reduce downtime by improving the quality of repairs and speed of resolution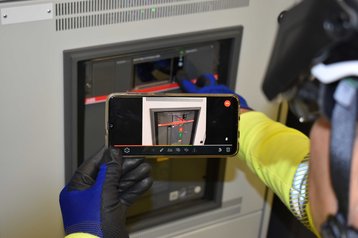 ABB augments support
Infrastructure equipment is increasingly managed remotely, and site visits have become harder to manage during the pandemic leading to a big demand for remote assistance and interactive support, and augmented reality (AR) is an increasingly accepted tool to provide this. ABB predicts the AR market will grow at 43.8 percent between 2021 - 2028.
The two new services are available as downloadable apps for Google and Apple devices, using AR to overlay any instructions on real equipment, so customers can act effectively.
"By giving customers access to the latest immersive technology, we can connect ABB experts to customer issues, wherever they are in the world, re-shaping the way we interact with them and enabling self-learning through first-rate support," said Stuart Thompson, head of service for ABB's electrification business area. "While the demand for remote assistance has been compounded by Covid-19, the significant benefits of these digital new solutions are compelling beyond the pandemic."
ABB has been using AR with some customers in 20 countries using this technology, and Closer and Raise will bring the technique to more people, potentially cutting repair times that are currently between 24 and 72 hours, while reducing costs by eliminating site visits. If the issue involved is one which could cause an outage, fast response can save millions of dollars, ABB points out.
It will also save emissions by cutting visits from field engineers - ABB says, a customer can save about 332 tons of CO2 emissions per year. That works out at the equivalent of burning 115,000 liters of diesel to produce about 1MWh of energy - the equivalent of running a 1MW generator for an hour.
The Closer system accesses on-demand content available 24x7, while Raise links to a live video with an ABB engineer, during hours determined by the customer's service contract.
As well as sharing on-screen annotations and digital overlays, Raise also allows sharing of pictures, audio and video, and guidance via live text chat.
The two products are sort-of acronyms of course. Closer stands for "collaborative operation for electrical systems, and Raise is "remote assistance for electrical systems."
ABB has created videos to show off Raise and Closer. the Closer video is embedded below.