Recertification
Continue your learning journey
By earning a DCPro credential you have demonstrated to your network of colleagues, clients, employer and industry stakeholders that you are committed to your professional development and to staying up to date on the latest industry standards and best practices. Recertification is the natural next step in your learning journey to ensure that you continuously remain up to date on the trends, standards and practices most relevant in the data center industry today.
All of our credential recertification pathways can be completed entirely online and at your own pace.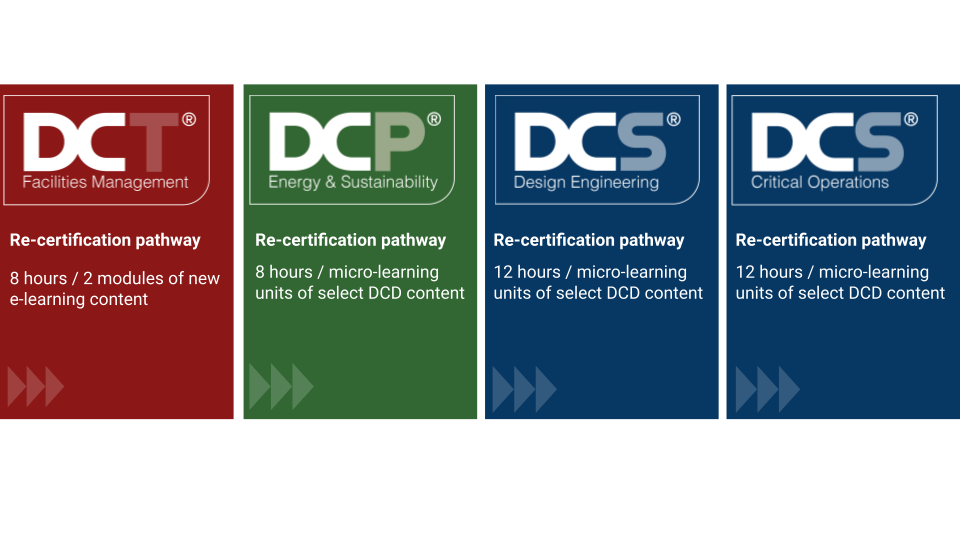 What is microlearning?
Microlearning units are short, focused online modules that allow you to interact with the most up to date DCD content within DCPro´s Learning Management System. DCP® and DCS® credential holders can choose from our library of select and enhanced DCD content on the latest industry innovations and trends related to sustainability, renewables, cooling, operations in times of pandemic, and more.
How to buy
Buy DCT® recertification pathway
*Note that you must be logged into the DCPro learner account that you used to complete the DCT® credential in order to purchase this recertification pathway.
Recertification Requirements
Recertification must be completed before your two-year credential period ends. The recertification program will be available for you to begin 6 months prior to credential expiration.
Recertification Process
DCPro will contact you during the last 12-months of your credential period regarding your recertification plan. Once your purchase is complete, you will be able to access the recertification course at your convenience and own pace, ensuring to complete all sections prior to your credential expiration date.
After you have successfully completed the re-certification course, you will receive your updated credential certificate and badge and will remain credentialed for an additional 2 years!