Energy Smart
–
The Brewery Conference Center
The international event that sets the agenda for data center decarbonisation
Coronavirus response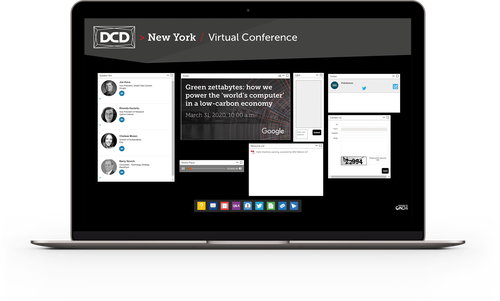 All our H1 event dates are currently under review. We are working closely with the venues and all our stakeholders to find alternative dates. Registration will be kept open and ported over to new dates when we have them. If you have any specific questions please email us
We are using our digital platform capabilities to continue important industry debate and engagement online. Our first virtual event will be DCD>New York running between 31st March and 2nd April. You can sign-up to view for free here.
2019 event in numbers
550+

delegates from 31 countries attended the event

85%

scored last year's conference programme 8/10 or higher

79%

rated onsite networking 7/10 or higher

1,588

partner leads generated and 1-2-1 meetings facilitated
Why DCD>Energy Smart?
DCD returns to Stockholm, probably the most energy aware capital in the World, for the third edition of DCD>Energy Smart. An international conference with 600+ attendees, focused on driving a sustainable approach to the global data center and cloud infrastructure capacity challenge.
Key Themes
Energy smart infrastructure

From future battery technology to microgrids and the latest cooling tech, this content theme provides data center operators with expert opinion and guidance on how to design and operate highly-efficient and highly-reliable mission critical environments that support the next generation of high density IT.

Modernization & lifecycle management

Retrofitting existing data centers to manage modern workloads and maximise capex might be less glamorous than greenfield data center design and build, but for many operators these are priority projects. This theme focuses on best practice for extending facility lifecycle and optimizing operational efficiency.

Building at scale & speed

It's crucial for data center developers and operators to reduce time to construction especially within the colo and hyperscale sectors. This content theme explores new greenfield data center design, construction techniques, framework agreements and supply chain dynamics.

Site selection & readiness

Access to capital, site selection, energy procurement, and connectivity are just some of the factors that developers and operators must consider when planning a new facility. This new content theme focuses on the work that must be done in advance of any new data center investment.
View 2020 Agenda
I've been waiting for a conference like this for a while. Within the next 15 years this industry will be one of the main global consumers of energy - we need to take more responsibility.

Ari Kurvi, Yandex

DCD>Energy Smart did exactly what it said on the tin! Behoving the data centre community to engage with their ethical requirement to reduce wasted energy from all aspects of their operation.

Brian Woods, Winthrop Engineering

It's not just another conference, Energy Smart is the type of initiative that can make a real difference in addressing the challenge of our generation.

Anna König Jerlmyr, Mayor of Stockholm
DCD understands that the industry has to evolve into the future, and sets an agenda which gives you new inspiration and ideas for your daily business.

Herbert Radlinger, NDC Data Centers GmbH

DCD has created a platform for the data center industry to come together and see how smart we are actually getting. They are asking the right questions and inviting the right people.

Peder Nærbø, Bulk Infrastructure AS

You're building the infrastructure of the future. It needs to be powered by resources we can rely on and not taking us in the wrong direction. This event gets it.

Gary Cook, Greenpeace