Today, the healthcare industry is facing some of its biggest challenges. The cost of providing services in every country across the world is rising. According to Deloitte, global health care expenditures are expected to increase from US$7.724 trillion to US$10.059 trillion between 2017-2022. Additionally, chronic conditions are becoming more prominent. Globally, 13 million people die every year before the age of 70 from cardiovascular disease, chronic respiratory disease, diabetes and cancer (World Health Organization). Simultaneously, consumers are also taken with the convenience and mobility provided by mobile phones and wearable technology and expect this from their healthcare.
Services, such as those we see in retail and banking, are being personalized for the user rather than the clinician or organization. Since the launch of electronic health records (EHR), healthcare has been moving into the digital space, but the transition has been slow. However, given the trends stated, it's easy to see that having the right infrastructure and technologies in place is important for a connected health eco system.
"The model for healthcare is different than it used to be," explains Chris Roberts, Segments Offer Director and Healthcare Solution Architect, Schneider Electric. " The focus has changed from all services delivered at central hospitals, to providing services at more conveniently located centers within the community. This distribution of caregivers means that there is a greater need for data to be exchanged from multiple locations. All of this digitization is requiring healthcare systems to think about how their IT networks reach out of their data centers and into the outpatient setting, providing clinical staff access and connectivity to the patient's full health record.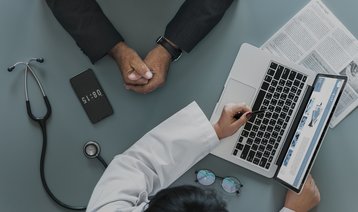 A convenient and more personalized healthcare service
But today, as Roberts goes on to say, contextualizing this data in an efficient manner is a challenge. "Artificial intelligence (AI) needs to be implemented to provide something informative, otherwise it's just a brain dump of data points which a human wouldn't be able to make sense of."
Technologies such as IBM Watson and Google DeepMind are already being used within the healthcare sector, contextualizing data for oncology and ophthalmology, respectively. However, these applications are still in their infancy. Using these solutions also comes with power management and bandwidth challenges, according to the healthcare architect. Switching between streaming content to displaying an MRI image or accessing patient health records means designing distribution through the data center must get creative.
To address these challenges, with the use of IoT and power over Ethernet products and applications, using the right combination of edge computing and data center systems means information is closer to the decision makers such as medical staff. Organizations can now augment their existing cloud architecture by adding edge computing and creating more of a hybrid IT environment as needed.
When using connected devices, clinicians need to access information quickly to make well-informed medical decisions - which could make the difference between life or death. These local, edge computing sites therefore need to have high availability or resiliency and the infrastructure to support them.
But the issues surrounding interoperability and standardization in sharing data between facilities, personal devices and medical wearable devices, holds the healthcare industry back from truly gaining context to data.
Ensuring interoperability is considered at all stages of the infrastructure design will further ensure that the required data from such a wider variety of data sources can be designed into the hospital, the clinic and even the patient home.
Protecting healthcare data
Data has always been at the forefront of thinking when it comes to designing healthcare infrastructure, due to regulations such as the General Data Protection Regulation (GDPR) and Health Insurance Portability and Accountability Act (HIPAA).
"Technology is evolving and with the proliferation of IoT solutions, privacy and data protection is paramount," says Roberts. "When designing infrastructures around open platforms, we need to ask ourselves 'how can someone get access?' and 'what do they want to do with the data?'
"Sharing needs to be secure between facilities and with the rise of ransomware and other cybersecurity threats, it's clear that infrastructure needs to be protected from malicious activity." But it isn't just cybersecurity that is a concern. Since many of the new conveniently located health centers are distributed vs centralized with little or no access to IT staff, physical security solutions that remotely monitor human and environmental threats become imperative.
"Security is only as good as the person using it," explains Roberts. "There needs to be more education of security and policies across the hospital - not just in the IT department but also doctors, nurses, administrators and other staff.
"Securing the data centers and IDF closets with access control systems and even the simple monthly change of a password could make all the difference, however, it is still considered a pain by many workers - not just in the healthcare industry. With some training, workers will be able to understand why these simple steps are so important for the hospital as a whole and can help prevent attacks such as the ransomware attack in 2017."
Driving better value-based outcomes
Uptake of personal and medical devices paired with new patient-centered services in distributed healthcare facilities is creating new demands on infrastructures. Cost-effective power and network management systems will enable power distribution to be scaled up and down to meet real-time delivery. Availability and performance on these networks are paramount, making sure doctors have quick access to all information about the patient. Any downtime of the data center or the internal network can impact patient care and ultimately, costs. Lastly, the challenges we see from cybersecurity and data protection mean that designing healthcare platforms needs new creative thinking. Edge computing can help address these challenges and deliver a new value creation model to the industry.